Hotel-restaurant in France's Bas-Rhin department near Strasbourg
The La Fischhutte Hotel in Mollkirch near Obernai
At just half an hour away from Strasbourg, treat yourself to a relaxing break in the "great outdoors" at the heart of the Vosges forest. The La Fischhutte Hotel-Restaurant welcomes you in Mollkirch, a charming mountain village situated near Obernai and Rosheim.
Discover this haven of peace boasting a river and mountains, an establishment at which serenity comes as standard. The only noise you will hear is the gentle rush of the Magel River, accompanied by birdsong.
The Schahl-Angsthelm family is waiting to give you the warmest of welcomes. Throughout your stay in Alsace, we will be only too happy to advise you and recommend activities among the many leisure and tourist attractions in the local area. We are looking forward to sharing our love of the region with you.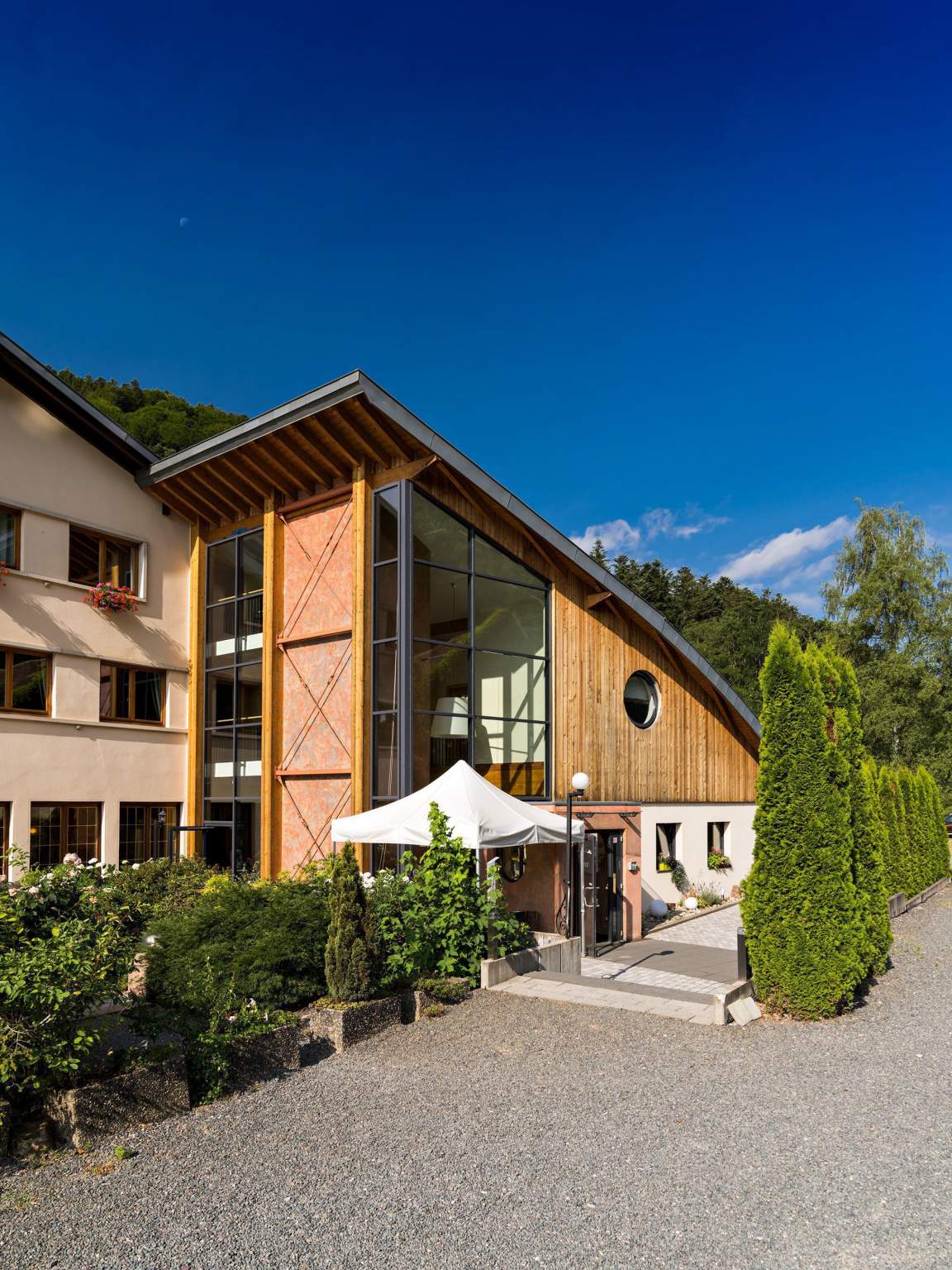 Boutique hotel in Alsace
The 3-star La Fischhutte Hotelboasts 18 rooms and suites, including one room with disabled access.
In a pleasant mountain-style chalet, each room has been renovated in order to offer guests the height of comfort: top-quality bedding, a satellite television, bathroom, balcony with a view and more. The stage is set for an unforgettable stay in Alsace.
Our rooms can host up to five people. They are ideal for all your stays: romantic weekends, family breaks, dinner and accommodation packages for guests on business trips, holidays with friends and more.
Treat yourself to a stay in our hotel with its warm family atmosphere, far from city bustle and the stresses and strains of everyday life.
See our Half-Board and Full-Board rates.
Gourmet restaurant
 
The La Fischhutte Hotel invites you to dine at its gourmet restaurant. Located near Rosheim, savour seasonal cuisine thanks to dishes that showcase market produce and Alsatian flavours. We offer several set menus for you to choose from.
And from October to mid-March, don't miss our Seafood Dinner Nights! We offer a surprising seafood buffet followed by a menu of marine flavours. Fish and seafood lovers will be delighted to discover such high-quality fresh produce, directly sourced from French coasts.
Please call to book your table on +33 3 88 97 42 03
Services and facilities
La Fischhutte, an overview of our services and facilities:
3-star Relais du Silence hotel
Gourmet restaurant
"Qualité Tourisme" and "Vignobles & Découvertes : Cœur d'Alsace" labels
18 rooms and suites, including one room with disabled access
Lounge with a fireplace
One meeting room (up to 35 people)
Private receptions (from 10 to 90 people)
Garden and terrace
Nesting box
Free Wi-Fi access
Lift
Shop with regional and "home-made" produce: jams, mushroom conserves, local pottery, local artisan products, honey, books, etc. 

and paintings on exhibition 

Free car park
Environmentally friendly measures: forest wood-chip boiler, water-saving devices, compost, "green" cleaning products and more. In our restaurant, we give priority to fresh, seasonal produce and exclusively home-cooked dishes.