Seminar, reception and banqueting room near Obernai
Professional seminars
Organise your seminar in Alsace in Mollkirch, in our boutique hotel-restaurant located less than 40 km from Strasbourg. At the foot of the Vosges mountain range, at the heart of untouched natural surroundings, the La Fischhutte Hotel brings together all the elements necessary to make your professional event a successful one: quiet surroundings, a fully equipped meeting room, high-quality facilities and services, different activities and staff who are always on hand to help.
Our hotel-restaurant boats a meeting room that can host between 10 and 35 people. With its natural daylight, and the latest technology, it is the ideal venue to hold work sessions, conferences, board of directors' meetings and more. You will also be able to take advantage of our grounds: relaxation in our garden, entertainment in our park, orchard visits, breaks on our terrace, walks in the forest and more.
Invite team members, colleagues and clients to join you in France's Bas-Rhin department and take advantage of both an enchanting setting and a privileged location. Our large free car park is at guests' disposal for the convenience of your participants.
You also have the choice between our various packages: residential or semi-residential seminars and study days. You can therefore enjoy the use of our meeting room combined with accommodation in our 3-star hotel and meals in our gourmet restaurant.
And finally, to ensure your seminar is a memorable one, we offer a range of team-building activities: mountain-biking and snowshoeing tours, wine tasting at local vineyards, lake fishing and picnics, guided tours of the forests to discover their legends, treasure hunts, geocaching, orientation courses and more. We work in close partnership with a specialist company, which can organise a whole host of different entertainment and outings in the local area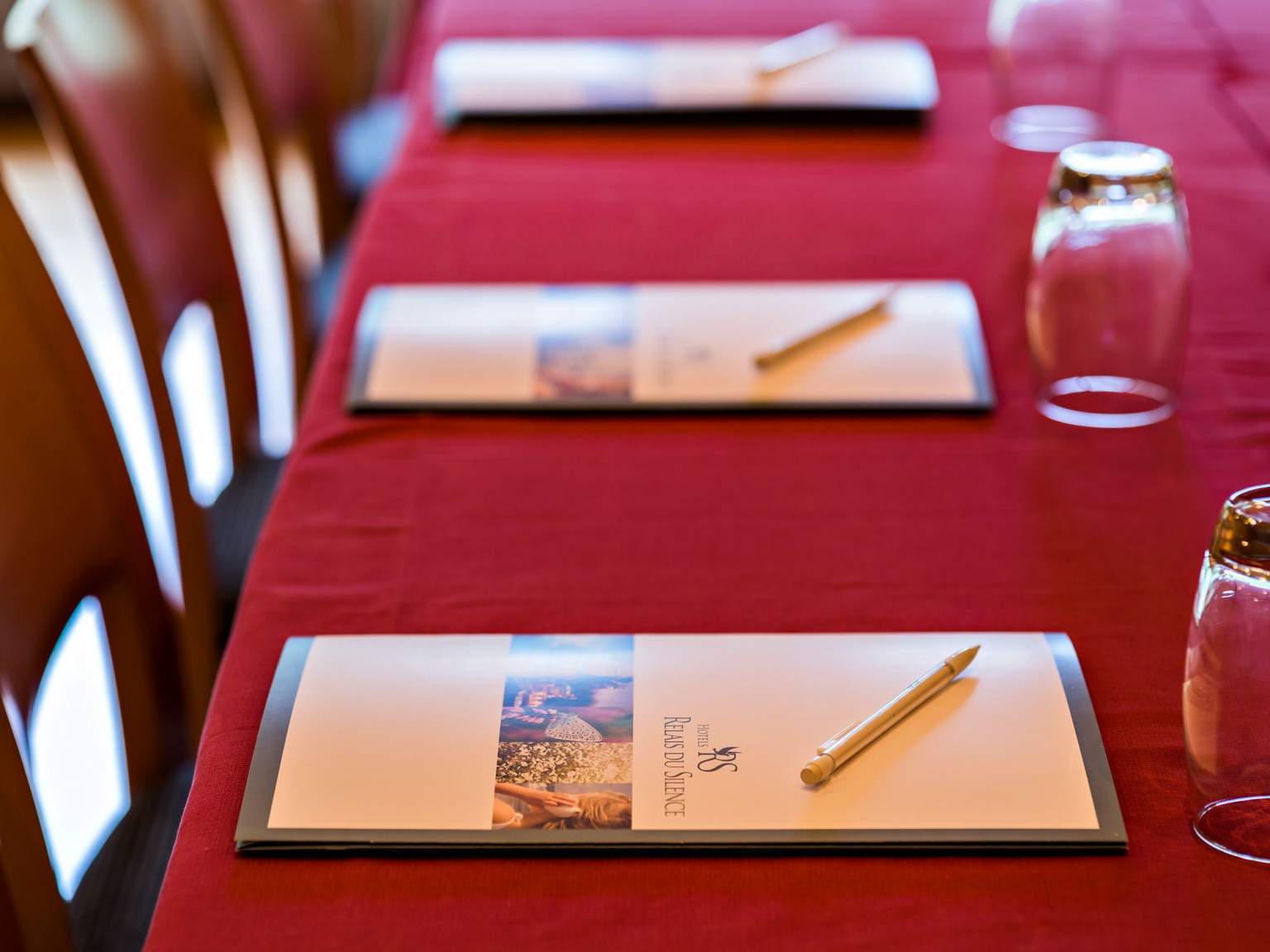 Banquets and receptions
Are you looking for a reception venue in Alsace? The La Fischhutte Hotel is the ideal place to hold your private events for between 10 and 90 people: weddings, birthdays, group meals, banquets, cocktail parties and more.
Our hotel, located in Mollkirch, boasts two dining rooms for your convenience, which are sure to enchant your guests with their nature-inspired décor and their large floor-to-ceiling windows with a view of the gardens. The covered terrace is also perfect for hosting cocktail parties, pre-dinner drinks, wedding receptions and more.
Our chef and his team offer guests seasonal set menus that are sure to delight all your guests. A buffet of sweet treats and other home-made desserts will make the perfect finishing touch to your meal.
And you can enjoy your special occasion and the company of your guests a little longer by booking rooms in our boutique hotel.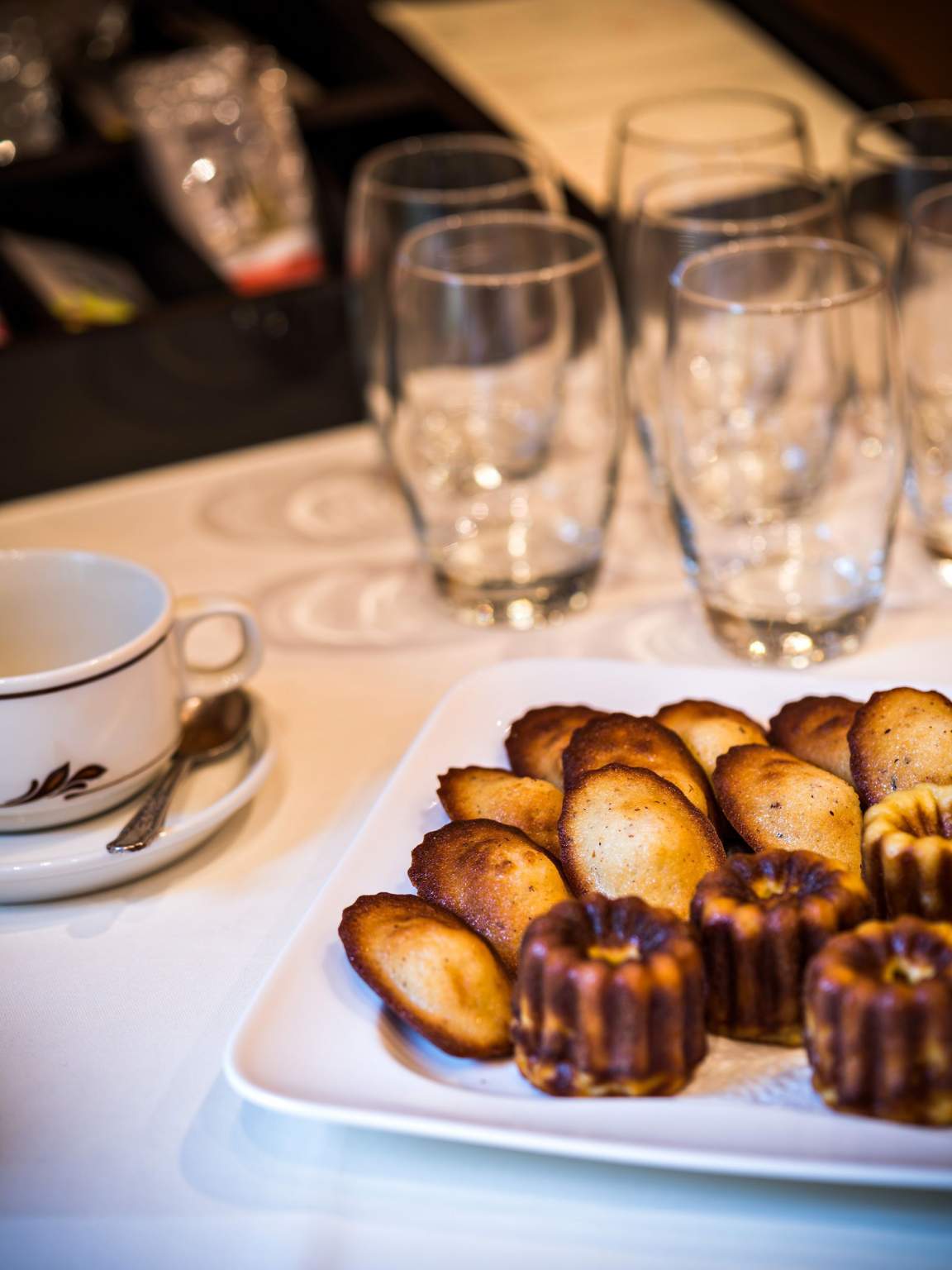 Hosting capacities and facilities
For all your business and private events, the La Fischhutte Hotel offers visitors:
A meeting room with natural daylight, which can host between 10 and 35 people (with the "Theatre" set-up), equipped with:
Flip chart
Overhead projector
Screen
Internet access: secure Wi-Fi connection
All other equipment on request (extra hire charge): audio-video equipment, video-projector,etc.
Two dining rooms hosting between 10 and 90 guests
Accommodation: up to 18 people
Seminar rates and packages
Study Day Package: €59/person
The meeting room and its equipment (two whiteboard-screens) and mineral water on tables
Photocopy/fax service
Secure Wi-Fi Internet connection
Two breaks with coffee, fruit juice and pastries, cakes or biscuits
One-hour business lunch, drinks included
Semi-Residential Package: €127/person
The meeting room and its equipment (two whiteboard-screens) and mineral water on tables
Photocopy/fax service
Secure Wi-Fi Internet connection
One break with coffee, fruit juice and pastries, cakes or biscuits
Dinner with specialities and drinks included
Individual accommodation in a room with a bathtub/shower and satellite TV
Buffet breakfast
Residential package: €160/ person
The meeting room and its equipment (two whiteboard-screens) and mineral water on tables
Photocopy/fax service
Secure Wi-Fi Internet connection
Two breaks with coffee, fruit juice and pastries, cakes or biscuits
One-hour business lunch, drinks included
Individual accommodation in a room with a bathtub/shower and satellite TV
Buffet breakfast
Low Season Rates:
From 15/11/2018 to 30/03/2019 except weekends and bank holidays
Groups must include a minimum of 10 participants
Residential Package: €147 per person (instead of €160 per person)
Plan your event
For more information, and to book your event, please call us on +33 3 88 97 42 03 or fill out our online booking request form: